ARRIVAL:
On Monday 30th June HRH the Prince of Wales dropped in (not entirely unexpectedly) to pay us a visit here at Melin Tregwynt, meet the staff and to attend the "Making it in Wales" event organised by Creative Skillset Cymru.
the mill painted and decorated for the day
staff briefing before the event
millshop and cafe team
Lyn, Rebecca, Sandra, Louise, Deborah and Jamie
Dafydd and Ian from despatch
greeting old friends
Eifion, Amanda and Angela Gidden MBE, Chair of the Fashion and Textiles Forum
Paul and Anita
Paul Kinsella did all the hard work at the mill, assembling and installing our restored water wheel
Kay, Lindy Lou and Amanda
Press and media interviews
friends and neighbours gather
it's actually happening...
HRH Prince Charles greets crowd
your Royal Highness, welcome to Tregwynt
TOUR OF THE MILL:
First stop was a tour of the mill, where the Prince viewed the newly restored water wheel and met our mill staff, including Sean the new apprentice, who explained the intricacies of weaving and let HRH "have a go" on the loom.
HRH Prince Charles and Eifion
the Prince meets the admin team
meeting Sophia our designer
meeting Steve from customer care
meeting Denise from fulfillment
Paul and Richard responsible for restoring the water wheel
viewing the wheel working
HRH entering the weaving shed
the first stage is warping
introduction to Chris and Ivy
HRH discovers Chris was in the army
Ivy explaining what she's doing
Ivy explaining what she's doing
HRH comments and Ivy responds
meeting three generations: Aelwen, Paula and Jean
Aelwen and Paula discussing their work
Sean our apprentice is introduced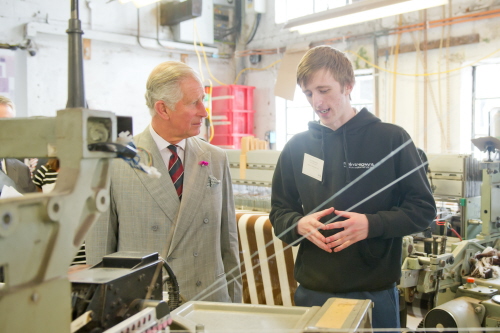 would you like to have a go...?
the Prince enjoying his visit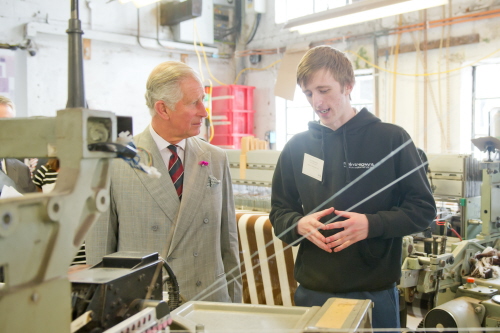 MAKING IT IN WALES
Prince Charles was also here to attend the Making it in Wales VIP luncheon. Being the host venue for this event, celebrating both the Welsh heritage and textile industry and the completion of the first Textiles Apprenticeship Programme in Wales, made us feel super proud.
angela gidden from fashion and textiles forum
bridgette kelly from campaign for wool
rhodri talfan davies from BBC Cymru Wales
eifion griffiths from melin tregwynt
rebecca townsend from apprentices
christine anderson meeting Prince Charles
WALKABOUT & DEPARTURE:
At the end of his visit to the mill, and after attending the "Making it in Wales" event, HRH the Prince of Wales made time to meet all our staff and speak to each of them personally, before heading off to his next event.It was a great day for the mill and we're very grateful to His Royal Highness for coming to see us.
on his way to the millshop
on our way to the millshop